Hoof Health is Key to Joining Performance
It's that time of the year again when producers look to get their ewes and rams in the ideal condition for a successful joining.
To ensure that rams are fit for the task, Micheal Savli, Technical Manager at AusFarm Nutrition Products (ANP) emphasises the importance of performing hoof checks on rams.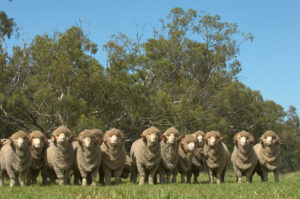 "Twelve weeks from joining would be the best time to start looking at your rams."
"Get them in the yards and make sure you have a good look at their feet," he said.
Hoof health was of particular concern last year, as persistent wet conditions saw a marked increase in reports of lameness in both ewes and rams.
"Lameness can reduce mobility and the inclination for a ram to serve ewes." Mr Savli said.
"On top of this, and less noticeable is the stress effect on the ram, which can significantly reduce fertility."
For both ewes and rams, the ideal time to get on top of lameness is six to twelve weeks prior to joining so their hooves can begin to heal and harden up before getting put to work.
Choosing the Right Hoof Health Supplement
With many options in the market, Mr Savli stresses the importance of choosing an effective hoof health supplement like StockMins-Hoof n Horn.
"Hoof health supplements can provide a high level of assistance when managing lameness, but the key is to include the right actives at the right levels to be effective."
"Research has shown that that for the best results, supplements need to provide biotin at a consumption level of 5mg/hd/day and zinc consumption of at least 80mg/hd/day, with a large component of that zinc in organic form.1"
"These ingredients are expensive, especially when included at the levels that have been shown to yield results."
"The most expensive inputs are ones that don't work, so if there's a cheap hoof health supplement out there, it is probably too good to be true."
StockMins-Hoof n Horn is a high specification, weatherproof, granular loose-lick supplement designed to be fed to livestock to repair damage, fortify hooves and boost immunity during times of high production and stress.
On top of essential minerals, vitamins and trace elements, StockMins Hoof n Horn provides sheep with 5mg of biotin and 143mg of zinc per day which has been proven to improve hoof health since being launched by AusFarm Nutrition Products over ten years ago.
For more information on how StockMins-Hoof n Horn can help boost your joining this season, call the team at AusFarm Nutrition Products today. Contact Us
References